Counterargument Article Swiss Casinos and their application Casino Oftringen
Swiss Casinos' media release on the license application for an Oftringen casino contains a number of incorrect market statements.
Oftringen freeway hub – not a white spot on the casino map!
The planned Oftringen casino is located in the Basel zone and would directly compete not only with the well-established and long-standing Grand Casino Basel, but also with the Grand Casino Lucerne and Grand Casino Baden.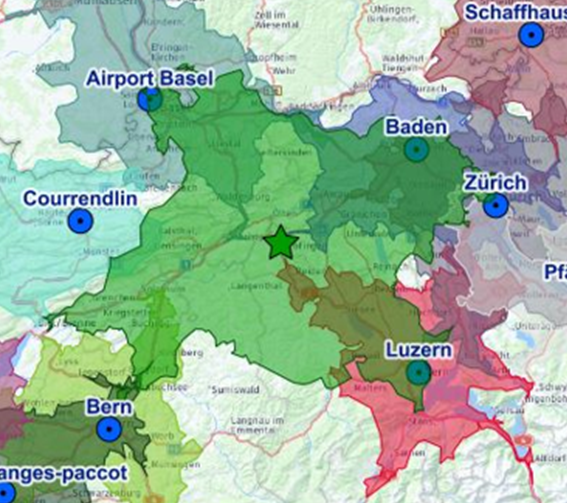 As visible in the graph, contrary to the statements of Swiss Casinos, a casino Oftringen would not only partially overlap the catchment areas of the existing casinos Basel, Lucerne and Baden. Due to its location at a freeway hub and the associated long driving distances within 30 minutes, more than 60% of the respective core catchment areas of the Basel, Lucerne and Baden casinos would be cannibalized.
The example of the licensing of the Zurich casino in 2012 impressively demonstrates that from 2012 onwards, casino levies to the federal government and the AHV did not increase as expected due to the progression effect, but collapsed. In the report on the casino landscape in Switzerland, the SFGB advises the Federal Council to make improvements only where possible. This without jeopardizing the fundamental positive achievements of the current casino landscape (see summary of the report Casinolandschaft Schweiz).
Specifications are to be adhered to by all
On June 1, 2022, the Swiss Federal Gaming Board (SFGB) opened the tender for the relicensing of Swiss casinos from January 1, 2025, with clear specifications. The plan is to have 23 new zones with 10 A concessions and 13 B concessions. Only 1 type A or type B concession is planned per zone.
Grand Casino Baden expects all applicants to adhere to the clearly formulated specifications. Should the Federal Council see potential for a further zone in this area, as proclaimed by Swiss Casinos, we expect an official invitation to tender for this newly created zone in due course, so that all interested parties can apply for it in an orderly procedure.
Contact
Stadtcasino Baden AG
Hazel street 2
5400 Baden